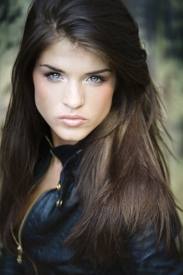 Name: Daciana 'Wolf' McCoy
Age: 13
Eyes: Ice Blue
Orientation: Straight
Personality: Sort of kind with an evil side that got her into Slytherin.
House: Slytherin
Year: 3rd
Wand Wood: Mesquite Wood
Wand Core: Pheonix Feather
History: Originally from Texas, Daciana moved with her father to England during the time that a gang took over the county. He thought his daughter's best chance would be to grow up away there. Before they could move, she went to her first year of schooling at an all girls' wizardry school. She's now in the equivalent of her old house, and found a way to smuggle a black wolf pup into Hogwarts with her. Wolf and Pheonix (the wolf pup) have been known to be spotted taking strolls through the Forbidden Forest (despite possible consequences) and sneaking into the Shrieking Shack.